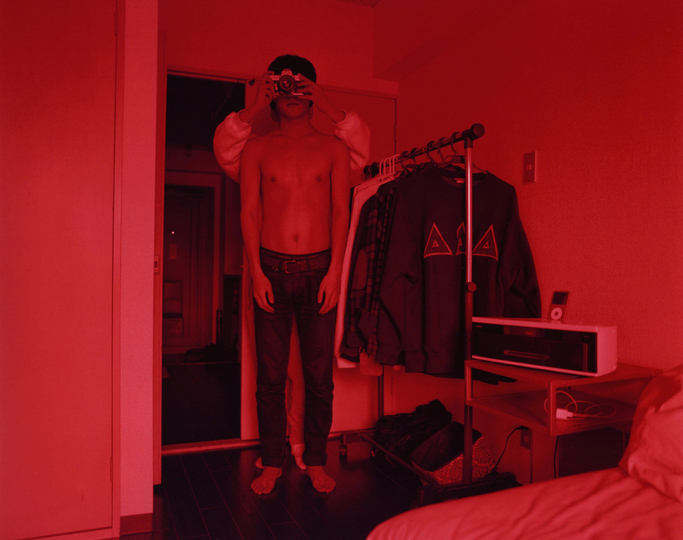 December 24 (Sun), 2017: 17:00~18:00
In commemoration of the release of new monograph "Family Regained" (Nanaroku Publishing), the reading performance will be held.
The first special limited edition package (20) offering from KEN NAKAHASHI will be also available at the gallery, coming with original tote bag collaborated with Eiki Mori and designer Yasuhiro Annou, and Original C-Print with artist signature.
©︎2017 Eiki Mori from the series "Family Regained"
©︎2017 Eiki Mori from the series "Family Regained"
Original Tote Bag
2 types of original designed tote bag by Yasuhiro Annou, printing a work of watercolor painting by Annou drafted from Eiki Nori's photography from "tokyo boy alone" (published in 2011), and printing a photo collage using the picture from "Family Regained".
By giving a different texture to the photography of Eiki, Annou expressed something beyond the diversity by depicting rich emotions like kindness or intensities.
Eiki Mori
Born in 1976, Kanazawa, Japan. Graduated from The Photography Dept, Parsons The New School for Design. Lives in Tokyo. He won the 39th Kimura Ihei Award in 2014 for "intimacy"
Yasuhiro Annou
Born in 1987, Fukuoka. Graduated from University of Mount Union (Ohio, USA) in 2011. Studied Fashion since 2015. In 2018 Spring, his first collection will be released.
【Eiki Mori First Special Limited Edition of 20 | Original C-Print with Artist Signature (One Print), Special collaboration tote bag】
(Nanaroku Publishing | A4 size with sleeve case・92 pages・Release date: December 20)
Details
Date:December 24 (Sun), 2017: 17:00-18:00
Host:KEN NAKAHASHI
Cooperation:Nanaroku publishing
Contact:info@kennakahashi.net
NOTE)Only Limited Edition will be on sale at KEN NAKAHASHI