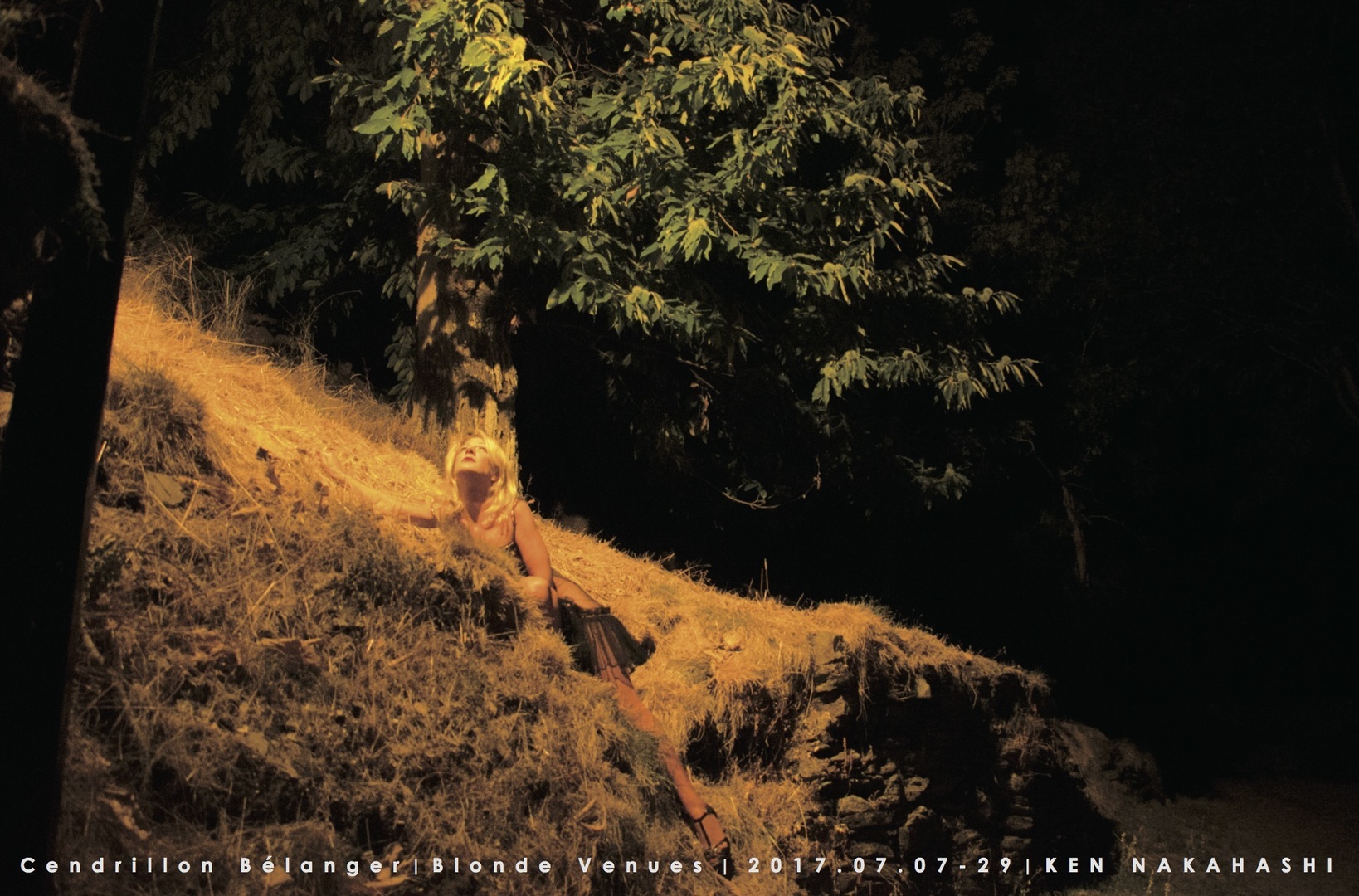 © Cendrillon Bélanger
KEN NAKAHASHI are pleased to announce "Blonde Venus", the first solo exhibition in Japan by Franco-Canadian artist Cendrillon Bélanger, co-curated by Stephen Sarrazin, a film and media art critic, curator and professor, to be held from July 7th (Fri) until July 29th(Sat), 2017.

Cendrillon Bélanger was born in Montreal in 1972. In early 90s, she studied sculpture and multimedia at the Beaux-Arts in Paris in the workshop of Tony Brown and Jean-Luc Vilmouth.
She has participated in numerous exhibitions in Europe, Asia and North America. In Japan, her works have been exhibited in "Yokohama France Vidéo Collection 2010: Regard Étrange Étranger" at Yokohama Akarenga / Red Brick House, and in the group show 'We don't have to take our clothes off'', at Geikou Shinjuku in 2014. She lives and works in Paris.
 For almost twenty years, Bélanger has worked on performing the self-portrait.
Her breakthrough was a series of photobooth nudes "photomatons" in which she traced a map of Paris through the use of subway photo booths; she would decorate them 'urgently' with flower petals, pieces of fabric that served as ornaments, achieving an encounter between the art of floral arrangement and what preceded the digital smart phone selfie.
She followed this with a series of video installations that attempted to question what is 'blondness', navigating between desire, innocence, and parody.
In recent years, her works can be read as playing with the idea of what is a "real" blonde, and the stereotypes it carries, from Heidi of the Mountains to a Robert Bresson maiden awaiting deflowering, onto Helmut Newton style pinups in a series of large format photographs.
Blonde Venus, a title borrowed from a film by director Josef Von Sternberg in which Marlene Dietrich seizes her destiny, brings together a selection of photomatons shot over a decade, and a set of larger photographs, taken outside, at night.
The exhibition also includes two video works made twenty years apart. The first one, L'Hôtel Rotary (1999), reveals the artist's figure (in a location where 19th century artists would meet models/prostitutes), while the other, 'Dark Venus' (2017), is about fleeing, hiding, while holding on to the gaze of the spectator. We have here tableaux made of light and shadow, accompanying an original cinematic narration between moving images shot twenty years apart.
In this exhibition, two decades worth of Belanger's photos and videos works will be shown, an exploration into how an artist reclaims the feminine.
Details
Title: Blonde Venus
Period: July 7 (Fri) - July 29 (Sat), 2017
Hours: 13:00 - 21:00
Holidays: Sundays & Mondays
Venue: KEN NAKAHASHI (5F, No.2 Shinjuku Bldg., 3-1-32, Shinjuku, Shinjuku-ku, Tokyo 160-0022)
Contact: info@kennakahashi.net +81 (0)3 4405 9552
About Stephen Sarrazin
Stephen Sarrazin is a film and moving image professor, critic and curator working in Tokyo and Paris. He lectures at Paris 8 University, as well as other institutions in Tokyo.
He has curated numerous installation exhibitions in Europe and Japan, and programmed video art screenings around the world for more than two decades, working with artists such as Gary Hill, Bill Viola, Shelly Silver, Eija Liisa Ahtila, Tony Oursler, Lynn Hershman Leeson, Pascal Lièvre, Clarisse Hahn, Benny Nemerofsky Ramsay, Mako Idemitsu etc.
BIO
Cendrillon Bélanger
1999 Post-diplôme (École Nationale Supérieure des Beaux-Arts de Paris)
1993-98 Beaux-Arts de Paris (Sculpture et Multimédia : Ateliers de Tony Brown et Jean-Luc Vilmouth)
1990-93 Licence d'Histoire et d'histoire de l'Art Paris I (Panthéon-Sorbonne)